At the end of the day, the sun goes to bed.
Two months ago, The Daily Transfer Request did a Cliché Count which showed just how much rubbish spews out of football pundits' mouths. Sky Sports are doing nothing about it, though, so it's time for another.
In
August's Cliché Count
, Gary Neville emerged as the worst offender - the King of Clichés, if you like - with Jamie Redknapp a close second. What happened this time around? And was the previous total of 37 beaten?
Between 1:00pm and 6:30pm, I have been watching Sky Sports' Super Sunday programme, which saw them broadcast live coverage of Sunderland vs Newcastle United and Queens Park Rangers vs Everton. During those five-and-a-half hours, I have kept a note of EVERY cliché uttered by a Sky presenter, pundit or commentator. Here's a reminder of what I've been looking out for:
Standard football clichés (i.e. it's a game of two halves)

Business jargon (i.e. going/moving forward, out of their comfort zone)

Overuse of 'obviously' when it isn't obvious

Super prefixes (i.e. super-, ultra-) and double-superlatives (i.e. top top)
And here are the results:
ED CHAMBERLIN
"Are QPR the one side in there that've got that X-factor?"
TOTAL: 1
GREG WHELAN
"Is it a good point in terms of momentum going into the Merseyside derby?"
TOTAL: 1
"...in terms of the overall attempts."
"He's also overtaken him in terms of USA caps now."
"It's the best I've seen of QPR in terms of when they give the ball away..."
"Obviously Pienaar was playing further inside."
"Wonderful, wonderful defending."
"Obviously he's just as important for his side."
"He's obviously stuck Shola in today because of his fantastic record in this fixture."
"Obviously a training ground practice."
"The referee got that one wrong for me."
"Obviously, the complexion of the whole game changed when Newcastle went down to ten men."
TOTAL: 5
NIALL QUINN
"So that game became very very important."
"Obviously, rightly applauded for all the goals he's got."
"That's the part of the ground I think has the least impact in terms of noise."
"They were dictating the pace, Sunderland were finding it really really difficult..."
"Big big point, and obviously then Tiote (wrong player) getting the deflection for the goal."
"Obviously they'd prefer the three points..."
"This is a very very important period for QPR."
"They're not a million miles away from them."
TOTAL: 9
RAY WILKINS
"Most certainly, and obviously if you get beat as well, Ed..."
"I don't know the strength of this derby not having played in it, but obviously..."
"Demba Ba's the only one basically scoring for them."
"But I think this is a really important game, obviously for them also."
"No corners, basically, no corners at all."
"They are, at the end of the day, playing for three points."
"If Steven Fletcher's foot is planted, then that's him out for a long long period."
"But he's made a very very bad challenge."
"And Mark will obviously come under a lot of stick because at the end of the day, it's his job to get them right."
"They are conceding goals and obviously not scoring enough as well."
"Everton have started the season remarkably, it's the best start for a long long time."
"With Taarabt and Traore, they looked really really good."
"But it's very very important from a coach's point of view..."
TOTAL: 14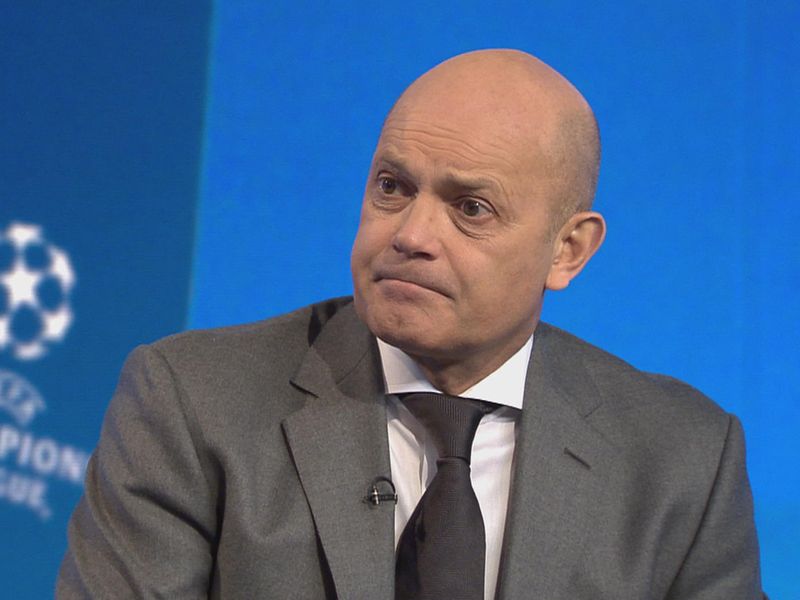 Ray 'Butch' Wilkins: Good player, but a terrible pundit.
As far as the commentary teams were concerned, Alan Parry again avoided the traps in the Sunderland-Newcastle game although co-commentator Matt Le Tissier did make a few too many 'obvious' gaffes. The QPR-Everton team of Rob Hawthorne and reigning TDTR cliché king Gary Neville tripped up a few times.
But once again, the main two pundits stole the show. Niall Quinn again disappointed with his amount of obviouslys and double-adjectives, but we have a new
King of Clichés
in the shape of the dreadful Ray Wilkins. He made 14 of them to be precise, and at the end of the day, he was the resounding winner.
Overall, it wasn't as bad as last time round, but Sky's football team are still leaking clichés at a rate of one every 10 minutes. Frankly, for a station that prides itself on being the home of great sports coverage, that is an unacceptably high rate.